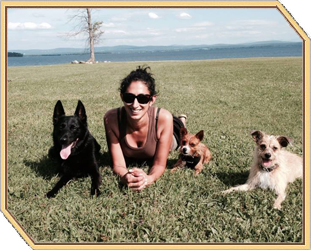 Bobbie Bhambree, CPDT-KA, is a dog trainer, a dog behavior consultant, and an agility competitor with over sixteen years of experience. Bobbie on the faculty of CATCH Canine Trainers Academy and Agility University. Bobbie is a Certified Professional Dog Trainer (CPDT), member of the International Association of Animal Behavior Consultants (IAABC), and member of the Association of Professional Dog Trainers (APDT).
Bobbie started her dog training career in 2003 as a pet behavior counselor with the ASPCA Animal Behavior Center. There she implemented behavior modification programs for dogs surrendered by the public as well as those seized by Humane Law Enforcement. She also evaluated, trained and rehabilitated these shelter dogs. Bobbie also consulted with prospective adopters, trained staff and volunteers, assisted with cases in the Behavior Clinic.
Later in her career, Bobbie also deployed for the ASPCA Anti-Cruelty Behavior Team to work in the field, supporting the team with dog fighting busts, puppy mill cases, and hoarding cases. Bobbie worked with the ASPCA Rehabilitation Center and various shelters and rescue groups in Westchester county, NY. She also worked in private practice throughout her career, helping people across the full spectrum of canine behavioral issues, and providing a multitude of time tested, sustainable tools and strategies to improve their dog's behavior. She continues to volunteer for shelters and rescue groups, promoting animal welfare and supporting adoptions.
In 2016, Bobbie joined the North Shore Animal League America in Port Washington, NY as the Director of Pet Behavior. During her tenure there, she managed a team of canine and feline trainers. The team focused on enhancing current programs as well as creating new programs providing behavior modification and enrichment for the animals in the shelter. This position allowed her to expand her reach in educating the public on responsible pet ownership.
In the fall of 2018, Bobbie joined the practice, Behavior Vets. She is the Training Director and Behavior Consultant. Bobbie works in the New York City division, helping to improve the quality of life for both people and their pets.
Bobbie fell into the field of dog training like many other trainers: She adopted a difficult dog. Claire, a Staffordshire bull terrier mix, proved to have a very strong personality and a high energy level. Everything Bobbie learned about training at that time was through self-education through books and seminars, trial and error, and lots of advice from different people. Bobbie bumbled her way through the early years with Claire, but over time the information all gelled together, helping her and Claire to develop a close, respectful and meaningful relationship that lasted 11 years, until Claire's passing. Bobbie's passion for shelter and rescue work, education and awareness about pit bulls, and ending pit bull fighting rings roots from her experiences with Claire during her lifetime.
Bobbie's background in psychology and training in communication and leadership skills allows her to empathize with the clients' needs, as well as utilize various learning theories in training and behavior cases. Her training also helps her better understand the dynamics of the relationship between the owner and dog, and the relationships among the various family members of the household.
Bobbie continues her education in training and behavior modification by regularly attending seminars hosted by world-renowned Dog Trainers and Certified Applied Animal Behaviorists. Bobbie is in regular communication with other to share resources and support one another with cases, as well as collaborating on projects and community outreach.
Bobbie's four dogs are her teammates and teachers in the world of dog training and behavior, as well as agility: Tricky (10-year-old terrier/Chihuahua cross), Marvel (6-year-old Yorkshire Terrier/Jack Russel Terrier cross), Eleanor Rigby (4-year old Staffordshire Terrier cross), and Heady Topper (3-year old Norwich Terrier cross). Tricky placed and qualified at a very young age, due to a solid foundation in her early training. At two years old, Tricky made it to the Finals in 2011 Northeast Regional Steeplechase and placed fourth in the International Jumpers Challenge. After some time away from agility, Tricky had returned to the game in 2014 stronger than ever, but unfortunately had to retire prematurely due to a degenerative disorder. Marvel is noted for his speed, brilliance, and enthusiasm for the game as he and Bobbie continue to come together as a team. Marvel's reactivity and anxiety delayed the start to their competition career. After spending a couple of years focusing on creative behavior problem-solving and rehabilitation, Marvel started competing in the Spring of 2016. He competed at his first regional event in the Spring of 2017 and did exceptionally well, making it to Steeplechase Finals. After spending two years building his confidence for the bigger events, Marvel placed third in both Performance Steeplechase and Performance Grand Prix at the Mid-Atlantic Regionals in 2019. Ellie hangs on the sidelines and cheers on her brothers, while supporting Bobbie in the behavioral work she does with shelter dogs and clients. Ellie is known for being a therapy dog for other dogs. Topper shows promise as he is developing in his agility skills, both speedy, driven, and enthusiastic. He began competing in the Fall of 2018.
Working with different breeds—with very different personalities—in this sport has presented Bobbie with a variety of challenges that has helped her become a more well-rounded instructor and competitor. Bobbie has learned that although innovative, progressive techniques are designed for Agility training, many of these techniques are applicable to teaching dogs to be well-mannered companions. Bobbie periodically contributes to the agility-focused magazine, Clean Run.
In her personal life, Bobbie is an avid yoga practitioner, writes as a hobby, is completely addicted to agility, hikes regularly, and is STILL a huge fan of "Sex and the City." Bobbie's claim to fame: she held the record for race-walking at her high school in New Rochelle, NY for almost two decades. She came in second place in New York State and fifth place in the nation in 1995. Bobbie currently shares her life with four dogs and very her supportive husband in the suburbs of northern NJ.