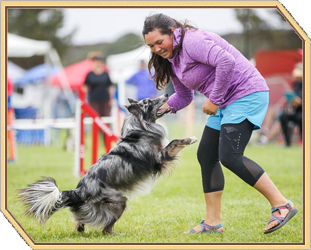 Jordan Biggs hails from the PNW and is combining her skills as a trainer and handler to become a force to be reckoned with in the agility ring! She has traveled throughout North America for training and competition. She is also well-known for her trick training classes. She begins 2018 with a bang by representing the USA with her 3 year old BC, Kirbee, at the IFCS World Agility Championships in Italy. Jordan is looking forward to more success with Kirbee as well as with her baby BC, Riskee, in the future!
From Jordan:
"When I started training dogs the training practice was much different. At that time it was choke chains, punishment and unhappy dogs. At that point, I thought to myself, "there has got to be a better way to do this!" That was when i started researching dog training and positive reinforcement and found some great people who helped teach me how to build behavior in dogs. It was then i realized that i had a talent for working with my dogs. I then continued to teach my dogs all the tricks I could think of and continued learning more about training dogs, which brought me to agility, my true passion.
My commitment to learning and developing better training methods for myself and my students is a key element at Zanee Agility. I continue to attend seminars from top competitors, take online classes from top competitors, have read multiple books and watched dvd's about agility, foundation, body awareness, conditioning dogs for sports, injury prevention, developing focus, jumping skills etc.. I am committed to being the best that I can be and bringing out the most I can in each of my students.
My handling and classes are inspired by international competitors Silvia Trkman and Justine Davenport. I focus on trained skills that I can TRUST on course! I have been very fortunate to learn from many different people including Tammy Moody and Desiree Snellman. I can't thank them enough for their support and encouragement throughout my agility journey!
My most powerful teachers have always been and always will be, my dogs. They have always given me the best feedback that I could ask for and have, in every way, helped me learn how to be a better positive trainer and handler in agility."
Learn more about Jordan Biggs at her website: http://www.zaneeagility.com/about/