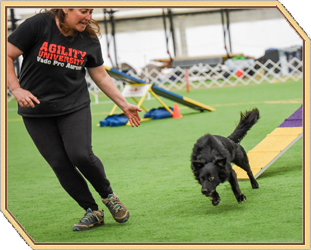 Tracy Sklenar has been training dogs and competing in dog agility for over 20 years, and is perhaps the only handler in the world who has won medals in international Finals as a coach for 2 different countries AND as a handler with her own dog in both team and individual events. She is on the faculty of Agility University (www.agility-u.com) and Agility MasterClass (www.agilitymasterclass.com), and also travels extensively to teach seminars and compete. Her "Feet Forward" approach to handling and emphasis on connection and reinforcement have helped handlers excel at every level and with every type of dog!
Tracy's dog's have had very successful careers Regionally, Nationally and Internationally! She and her dogs have achieved many titles & championships, made many Finalist appearances as well as multiple podium appearances in the U.S., in Canada and in Europe. Tracy has competed successfully in agility with a variety of dogs of all shapes, sizes and temperaments. Most recently, Tracy won the National Games Championship at the 2018 UKI US Open!
Currently, she shares her life with 6 dogs: 3 BC/terrier mixes (14 year old Export, 11 year old Matrix, and puppy Hot Sauce), a BC/CS mix (5 year old Voodoo) and two Papillons (6 year old Crusher and 4 year old Macho Nacho). In the ring, their runs are noted for focus, accuracy, consistency and speed! She began agility with 2 mixed breeds and 2 Dalmatians, and also enjoyed a fabulous career with Rebound, a Rat Terrier.
Tracy also has extensive coaching experience, ranging from local competitors to international teams. She bases her Feet Forward approach on the streamlined international styles of handling found in parts of Europe and emphasizes teamwork, connection, independence, consistency, mental focus, play and fun for both the handler and the dog to build a clear system of communication for each team. She came out of team coaching retirement to coach Team USA at the IFCS World Agility Championships in Valencia, Spain in 2017 and stayed on to coach the 2018 USA team in Italy. In 2012 and 2011, she was the Coach/Manager of Team USA at the World Agility Open in Belgium and the United Kingdom, and in both years was proud to see the US team bring home more medals than any other country  – both times! She served as the Manager/Coach for Team Canada at the IFCS World Agility Championships in 2008, 2010 and in 2012. These teams were also very successful, ranking high in the Individual medal count and bringing home medals in the Team event.
Outside of international competitions, Tracy's local, national and international students from live classes, seminars, and online classes have achieved great success with a variety of breeds, including championship titles, national finals appearances, top five finishes in their breed, Invitational appearances,and more! Tracy uses positive reinforcement, motivational games and shaping to build brilliant behaviors in the dogs while teaching the handlers to be consistent and positive in their handling and dog training.