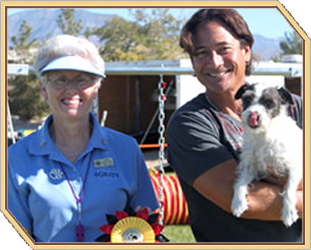 Greg Louganis is both an Olypimc Gold Medalist and a Dog Agility Champion! He is an Olympic and World Champion in Diving and has appeared in multiple national finals in Dog Agility.
Greg Louganis began competing in diving at age 9. By 16, he had won his first Olympic medal, a silver medal on the platform in 1976. At 24, he became the first man in 56 years to win two Gold Medals in diving by winning both the platform and springboard events. In 1988, competing against divers half his age, he became the first to win double Gold Medals for diving in two consecutive Olympics.
Greg's diving accomplishments did not stop there. He is a five time World Champion and holds 47 National Championship titles. At the Pan Am Games, he earned six Gold Medals, and in 1985, he was awarded the Sullivan Award as the "Nation's most outstanding amateur athlete."
Considered the greatest diver of all time, Greg was the first to score over 700 points in a diving competition under the old scoring system and is still the only one to accomplish that feat at an Olympics. However, what most people remember about Greg is that he went on to win Olympic Gold at the 1988 Games despite striking the back of his head on the springboard during the preliminaries. He attempted a reverse 2½ somersault pike in the ninth round of the prelims, and he hit his head on the board and fell into the water. Thirty-five minutes later, after receiving stitches to his scalp wound, he resumed diving. The following day, he hit all 11 dives and easily won the Olympic Gold Medal.
At the 1988 Olympic Games, he was awarded the Maxwell House/United States Olympic Committee Spirit Award as the Olympic athlete who had best exhibited the ideals of the Olympic spirit, demonstrated extraordinary courage and contributed significantly to the sport. Greg is more than just a diver; he stands out as a human being as well. Greg speaks out for many organizations including youth clubs, drug and alcohol rehabilitation groups, and organizations for the dyslexic.
Greg was diagnosed HIV positive in 1988, and revealed his HIV status in his 1995 autobiography, "Breaking the Surface," which spent five weeks at number one on the New York Times Best-Seller List. He then produced a Video Diary called "Looking to the Light," which picked up where "Breaking the Surface" left off.
Greg's second book, For the Life of Your Dog: A Complete Guide to Having a Dog From Adoption and Birth Through Sickness and Health, was published in 1999. Greg has trained three dogs to the American Kennel Club (AKC) dog agility nationals. Greg was born, raised and still resides in California.
Career Highlights Olympics
1976 Montreal, Canada – Silver Medalist on 10 mtr platform
1980 Moscow, USSR – qualified on 3 mtr springboard & 10 mtr platform (BOYCOTT)
1984 Los Angeles, USA – Gold Medalist on 3 mtr springboard & 10 mtr platform
1988 Seoul, Korea – Gold Medalist on 3 mtr springboard & 10 mtr platform
International Competitions
1978 World Championship – Berlin, Germany o Gold Medal, 10 mtr platform • 1979 Pan Am Games – San Juan, Puerto Rico o Gold Medal, 3 mtr springboard o Gold Medal, 10 mtr platform
1982 World Championships – Guayaquil, Ecuador o Gold Medal, 3 mtr springboard o Gold Medal, 10 mtr platform
1983 Pan Am Games – Caracas, Venezuela o Gold Medal, 3 mtr springboard o Gold Medal, 10 mtr platform
1986 World Championships – Madrid, Spain o Gold Medal, 3 mtr springboard o Gold Medal, 10 mtr platform
1987 Pan Am Games – Indianapolis, IN, USA o Gold Medal, 3 mtr springboard o Gold Medal, 10 mtr platform
47 National Titles