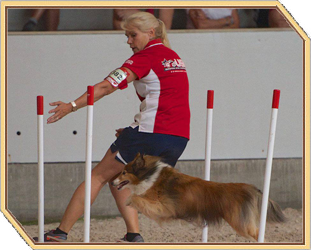 Diane Goodspeed started training dogs in 1992. Her first obedience dog was a Lhasa with whom Diane completed an AKC CD, CDX, and UD and attended two Pupperoni Eastern Regionals. In 1995, Diane started agility "for fun" but was soon hooked. With her border collie, Kayla, they blasted thru their CD and CDX quickly to focus on agility, earning a MACH in 2002, just before Demon joined the family.
With Demon, Diane quickly became a competitive force in the 16" class with a 3rd place finish in 2008 and a 5th place finish in 2010 at the AKC Agility Nationals. They went on that year to win a spot on the 2010 AKC Agility World Team. At the FCI 2010 Agility World Championships in Germany, Diane and Demon finished an impressive 15th at their first international competition. In 2012, Diane and Demon represented the USA at the European Open in Sweden, making the finals in both Individual and Team competition. In 2013, Demon and Diane again won a spot on the 2013 European Open team by putting down five consecutive, flawless runs at the AKC International Team Tryouts. They earned only 4 time faults for the entire tournament. In Belgium, the medium dog team was the only USA team to make Finals where Diane and Demon ran their section with confidence and no faults helping USA1 Medium Team to a 7th place finish.
Diane is now working with her second border collie, Kenzie, and two young shelties. Her youngest, Bizzy, went from AKC novice all the way to world team tryouts in one year! He is, however, too young to compete internationally, so Diane has joined the 2015 European Open team as a manager/coach and will work with the team at their practice in June and will go with the team to Germany.
In addition to dog training, Diane has published four books, one on biking in New Jersey and the other three on dog-related topics. Her latest book is The Top Dog Advantage, which explains her mental management system including lots of skill building exercises for emotion control and stress reduction. She is also "mom" to Kevin and Kathleen Oswald and has a very patient and supportive husband, Richard.